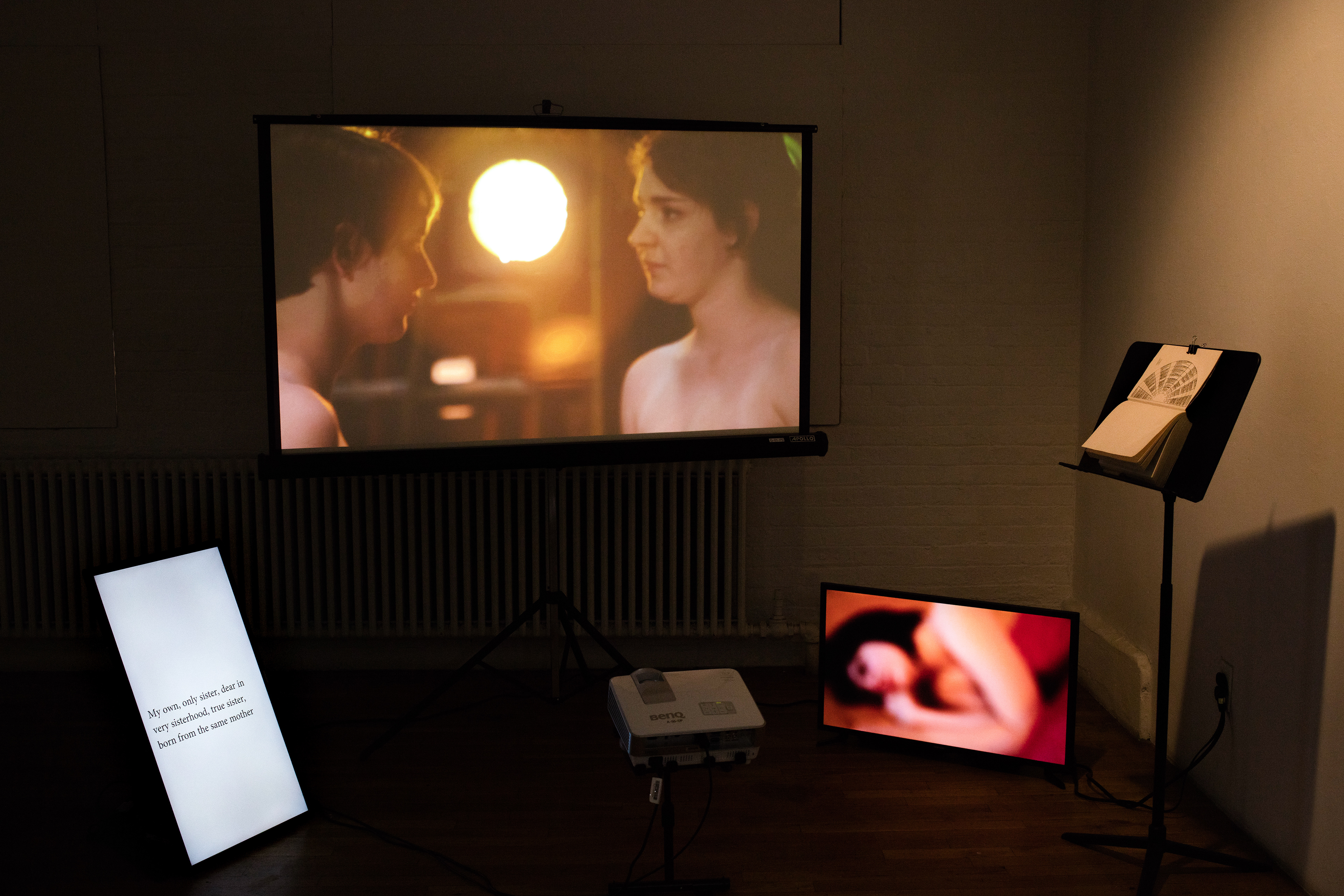 Frail Places

, three channel video and Frances Yates's

The Art of Memory

opened to a diagram of Giulio Camillo's "Theatre of Memory," installation shot, 2017 (Photo by María del Mar Hernández Gil de Lamadrid)
Frail Places
is an ongoing collaboration with my sister, Giulietta Fiore. It began in 2015 as an attempt to understand and articulate our sisterhood using her methodology as an archaeologist and mine as an artist. Remembering an instance in which we had performed Sophoclean sister roles, Antigone and Ismene, together on the same stage, we excavated various translations of
Antigone
and reassembled the text using only language that revealed the sisters' intimacy.
In 2016 we returned to our high school auditorium where we had first performed these roles, and we enacted our excavated text. The footage that resulted from this experiment (shot by Lorraine Best) became the material for a new set of investigations. 
In an effort to better understand what we had made, we turned to historical examples of theaters as memory systems such as Giulio Camillo's "Theatre of Memory." In his posthumously published treatise,
L'Idea del Theatro
, Camillo criticized the ancient orators for their mnemonic practices that "confided them [the parts of their speeches for recitation] to frail places as frail things." Rather, he proposed that his theater would be eternal. Frail things in eternal places.
Like Camillo's uncompleted theater, our work became a meditation on impossibility.
Frail Places
is in a constant state of attempt. An iteration of the work was installed in the Parsons Fine Arts 2017 MFA Thesis Exhibition,
Second Nature
, at Westbeth Gallery in 2017. The installation consisted of a three channel video and Frances Yates's
The Art of Memory
opened to a diagram of Giulio Camillo's "Theatre of Memory."